15 Easy Halloween Decorations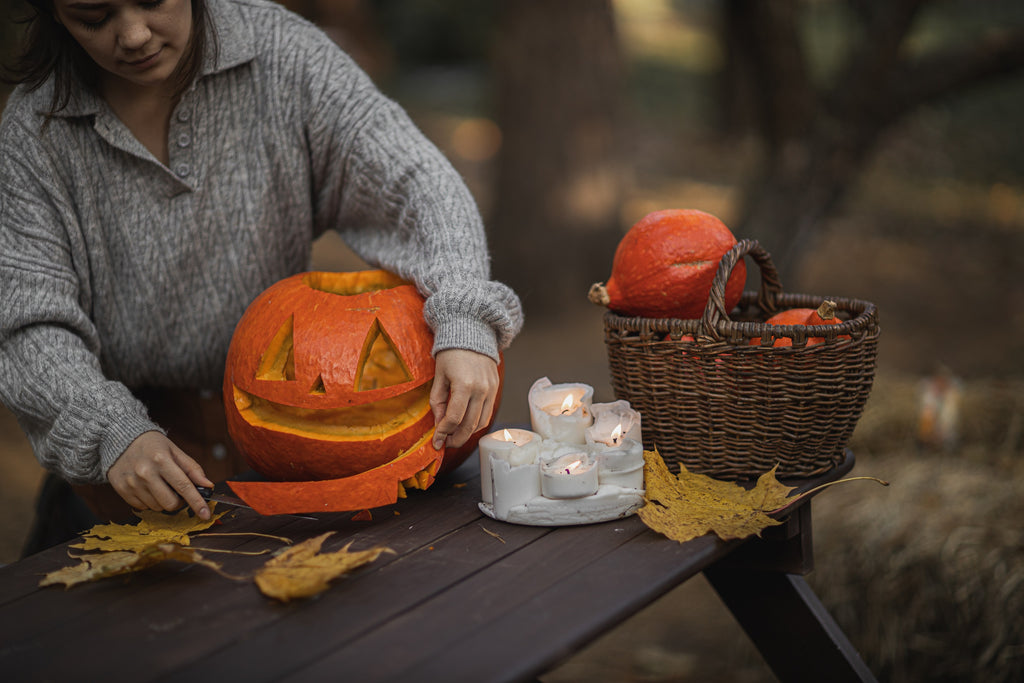 Time really does go by quickly. Could you believe that it is almost Halloween again? That's right, it almost seems like New Year was just a week ago but here we are now, in Fall beside our
Fall-scented candles
nearing Halloween once again. As we are mostly stuck at home, making DIY Halloween decorations—whether it be indoor Halloween decorations or outdoor Halloween decorations—seems like a great way to pass the time and spend the fall enjoyingly.

Here are 15 Easy DIY Halloween Decorations that will make you move on from your usual carved pumpkin or pumpkin decors. Together with your fall scents and Halloween candles, having these DIY Halloween decorations would surely make your Halloween even more spook-tacular!
1. Burning Candles
You can make this indoor Halloween decoration with no sweat at all. You just need a glove and some candles. Add this décor to your list of Halloween candles! You can even make your Hand Candle have autumn scents or fall scents! You may also want to check out this skull statue from Stone Candles.
2. Halloween Milk Jugs
This DIY Halloween decoration is suitable for indoor Halloween decoration and outdoor Halloween decoration. Plus, you can make this décor with used milk jugs and some markers. You can even place this beside your carved pumpkins and they'd surely make a spooky pair.
Courtesy of My Best Friends
3. Pumpkin Drinks Bowl
If you really can't get enough of your pumpkin decors, you could also try making this carved pumpkin drinks bowl.
4. Glowing Pumpkin Jack O'Lantern
If you're a big fan of the good old carved pumpkin, you could add a twist to it by having it glow by placing a Halloween candle inside it! As a bonus, you could even use a fall-scented candle just for that added autumn scent. You can use this as either an indoor Halloween decoration or an outdoor one.
If you got some nails (used or not used) lying around your house, you could stick them into your ordinary candles (or if you're fancy, your fall-scented candles) to make your candles look like they're tortured! This would instantly turn a candle into a Halloween candle.
To make this indoor Halloween decoration, you need a few glass jars and your candles (choose the candles with autumn scents for that added Halloween feel) and some bandages. Simply wrap the bandages around your jars and there you have it: mummified candle jars.
With this indoor DIY Halloween decoration, you could recycle your used wine bottles. Simply paint them with blood red or black paint and glue your candles with fall-scents on top of it. You could also paint your fall-scented candles for a spookier vibes.
8. Spooky Tattered Curtains
This decoration is suitable as an outdoor Halloween decoration as well. You could hang on to trees for that added scary vibes.
9. Witch's Broom Chandelier
Take your broom, tie some rope on its ends and hang it on your ceiling. Hang mini candles with fall scents on your broomstick, light them up and you got your broomstick chandelier.
10. Magic Potions
If you've got spare bottles lying around, simply paint them with different colors and add mystical-looking labels on them and you've got yourself potion bottles. If you want to take it to the next level, you could fill them with water mixed with mica powder for that enchanting shimmer. You could place these potions next to your autumn-scent candles in your bedroom and they'd surely make a great combination.
11. Gnome House Pumpkins
This is another pumpkin décor which needs minimal effort. Take some pumpkins with varying sizes, stack them up and paint on them windows and doors. You could also dig up the insides of the pumpkins, and add fall-scented candles inside them for that homely glow. This carved pumpkin is suitable as an outdoor Halloween decoration perfect to place under your doors.
12. Fall Themed Pumpkins
If you want more pumpkin décor, you could paint your pumpkins with autumn leaves details on them. Choose smaller pumpkins for a cuter look. You could place these on your dining tables beside your fall-scented candles for that total Fall atmosphere.
13. Pumpkin Candy Bowl
This is yet another outdoor Halloween decoration that uses the star decoration of Halloween: pumpkins. Simply carve your pumpkins, removing the inside and cutting its top off. You could fill these up with treats for the Trick or Treaters and place it under your door.
14. Eerie Living Room
This is probably the most effortless Halloween Decoration in this list. You just need to place white blankets over your furniture and voila! You now have an abandoned-looking living room.
15. Broomstick Door
If you still have a few broomsticks in your house, you could hang them in front of your door for that Witch-house look. Add in some fake spider webs and your door would look like the door of an isolated old witch.
Since we mostly stay at home anyway, it wouldn't hurt to spend some time doing some of these DIY projects. With these decorations, along with your fall-scented and Halloween-themed candles, your house would surely feel more Halloween than ever!