All the Benefits of Using Natural & Organic Hand Soap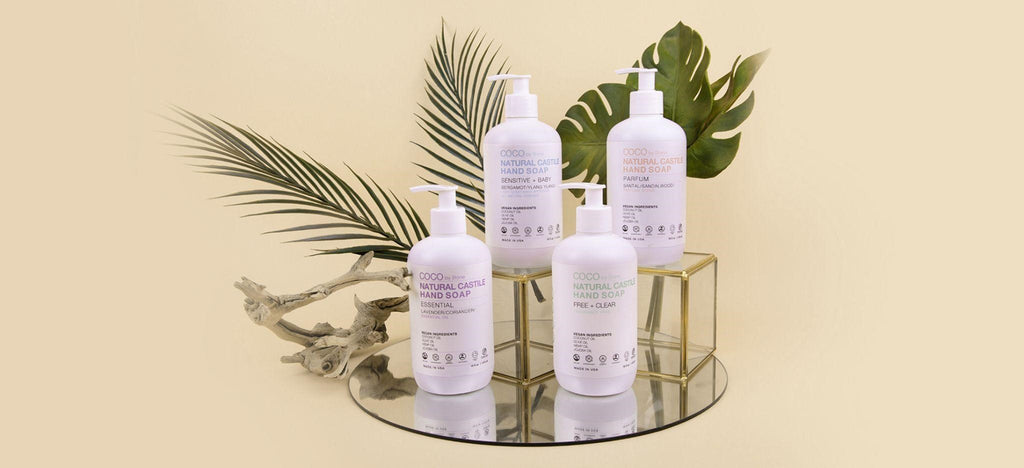 Hand-washing has become a duty and an automatic task for all of us when we were all hit by the pandemic. In order to ensure our safety and the safety of others too, we wash and we disinfect. Excessive hand washing and sanitizing though kept us safe, they have also certainly left our dainty hands dry and rough. After all, most of our soap products nowadays are made with unnatural chemicals with manufacturing-quality.
With all these drying commercial soaps, more and more people have become inclined to use Organic and Natural Hand soaps. Stone Candles also has its very own organic hand soap line which is guaranteed to be the best among the best natural hand soap. Choosing COCO by Stone Natural Hand Soap and Organic Hand Wash will surely make your hands and skin feel happy and moisturized.
Why COCO by Stone Hand Soap?
COCO by Stone hand soaps are more than just your ordinary natural hand soaps. These organic hand soaps are actually castile soaps, which are known and proven to be the best in sanitizing and getting rid of dirt and bacteria all the while keeping moisture and benefiting your skin. Truly, the best hand soap is out there! Needless to say, Stone Hand Soap has so much more to offer—it can be the best natural antibacterial soap and the best moisturizing hand soap at the same time. Aside from these, the following are the other benefits you will get by using COCO by Stone Hand Soap:
Safe For All Types of Skin
COCO by Stone organic hand soap uses natural and safely-sourced ingredients. All Stone Natural Hand Soaps are made with glycerin and castile. Both these ingredients are proven to bring benefits to your skin. Aside from this, these soaps are also safe for all skin types even for baby skin! Handmade with care and quality in mind, these organic hand washes by Stone only use ingredients that are not just natural but also proven to be 100% safe.
COCO by Stone Sensitive + Baby Hand Soap is a luxurious organic hand soap that's guaranteed to be safe and nourishing for all types of skin, whether it be sensitive skin or the supple skin of babies.
Organic Ingredients for Extreme Moisture
Aside from being safe for all skin types, Stone Natural Hand Soaps are also moisture boosters.  As mentioned earlier, our organic hand soap is made with glycerin. Glycerin is an ingredient for natural hand soaps which helps lock in the natural oils and moisture of our skin. With this, when we wash our hands, its natural moisture doesn't get stripped off. And with this, our natural hand soap is for sure the best hand soap for dry skin.
Aside from this COCO hand soaps use castile which has great antibacterial components, too.
Stone Organic Hand soaps aren't limited to just washing and disinfecting but also offers alluring scents and aromas. COCO by Stone Parfum Hand Soap is the best moisturizing hand soap which also showcases Stone's most exquisite scents and aromas.
Antioxidants Great for Your Skin
COCO by Stone organic hand soaps are more than just moist boosters, these natural hand washes are also formulated with Stone's finest essential oils. These oils are not your simple oils. Aside from being high quality, extracted from real ingredients, these essential oils also provide a lot of benefits for the skin. As these essential oils come from various plants like lavender and jojoba, they also come full of antioxidants which help detox and combat toxins that come into contact with our skin.
Antioxidants go against free radicals that we always get from the environment. By protecting us from free radicals, antioxidants keep our skin healthy and bring other benefits like skin brightening, and irritation calming.
Try COCO by Stone Essential Hand Soap, this is an organic hand soap that has Castile and is infused with various essential oils like jojoba. Have your hands delight in moisture and goodness with this natural hand wash.
Eco-friendly, Cruelty free
Stone has already been known to be eco-friendly and cruelty free even with just its candle products. And now, stone continues to be eco-friendly and cruelty free with its organic hand soaps. Using materials that are 100% natural and organic and ethically sourced, using stone organic hand washes would surely make you feel good with no guilt with the fact that the soap you are using is handmade with good intentions.
If you want a natural hand wash that is simple with no other unnecessary additives, try our Free + Clear Hand Soap. This organic hand soap is an elegantly simple antibacterial hand soap that is also best for dry skin.
Since hand washing has been vital to our safety more than ever, make your hand washing experience delightful and pleasurable with our best natural hand soaps. After all, it's never too late to try something new and turn to the organic and natural way of living and hygiene. These organic hand soaps will keep away the bacteria and dirt while keeping you moisturized and smelling good.
Try out our natural and organic castile hand soaps and learn more about them here.