6 Mistakes New Candle Makers Should Avoid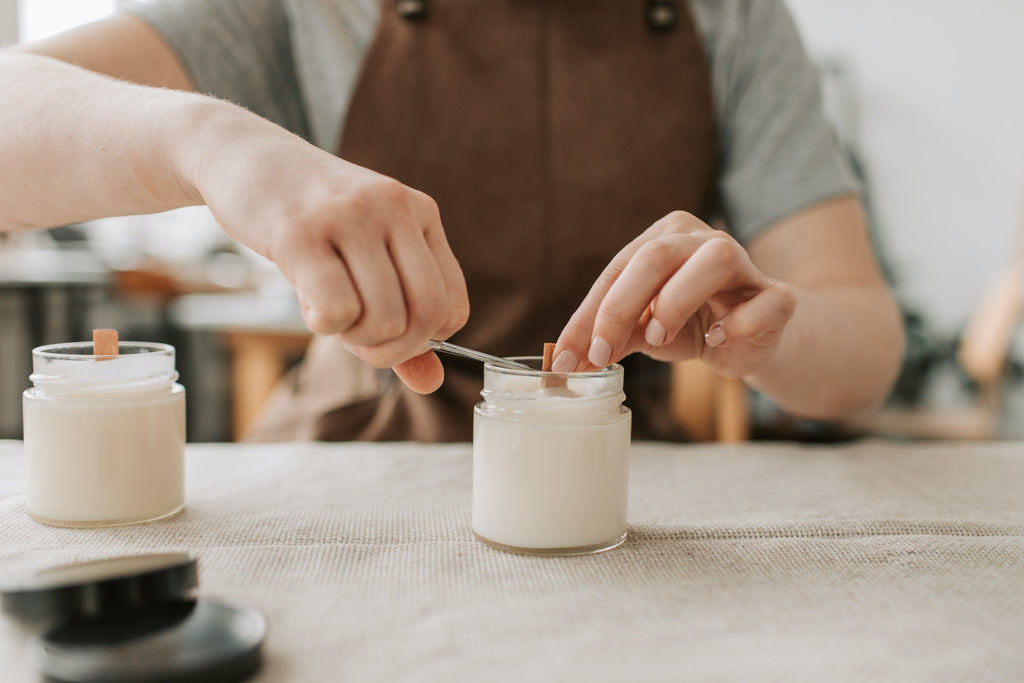 So, you've started out a new hobby. You've finally moved on from your other pastime and have decided to try out a new hobby which is not just entertaining but could also be a potential source of money: candle making. However, not every hobby starts strong; as a beginner, we're bound to encounter mistakes when starting out a new hobby. Fret not, though! There's absolutely nothing wrong with making mistakes, we all start somewhere, after all!
Especially in the craft of candle-making, not everyone's going to be an instant whiz at it. And since you want to turn this hobby into something that makes profit, it's important to learn the tips and tricks to making perfect candles as soon as possible. You've found the best article for you! This blog will teach you all about the common mistakes beginners do in candle making and will help you to avoid them.
Read on and become an expert candle maker or even make your own candle maker store in just minutes, with less trials and errors.
1. Putting the wrong amount of fragrance oil
Just like in cooking and baking, candle making also needs to have the right amount of "ingredients" for it to reach its best. In mixing your candle base with fragrance oil, you should follow this ratio:
1 ounce per 1 pound of wax
or
28 grams per 454 grams of wax
To achieve best results, it's most recommended by expert candle makers to measure every ingredient by weight. I know, it can be convenient to just estimate and guess the measurements, but if you really want to be a successful, stick to the right ratio!
Adding too little fragrance oil may cause your candles to not smell like anything at all. While adding too much fragrance may affect the way your candle burns. And that is why, measure your fragrance oil, candle makers!
Looking for natural and eco-friendly wax for your candles? Try coconut wax!
2. Using the same wick size for every scent
Wicks may not seem that much, but it actually greatly and significantly affects a candle's quality. There is not "one size fits all" logic when it comes to candles and wicks. As such, newbie candle makers should avoid looking at wicks and choosing them just for aesthetics or convenience, as changing even a small amount of the fragrance oil may drastically affect the way your wick burns the wax.
Changing a single aspect of your candle—whether it be the among of wax, the type of fragrance and its amount—would require you to adjust your wick, its size and type, as well.
Wicks of different sizes are affordable and always available at DIY Maker's Mart. When starting your own candle makers store, it is good to have guidance through the candle makers near you.
3. Burning the candle before curing completes.
Curing is the process of the solidification of the candle wax. And just like cement, candle wax also needs time to set and solidify. I know, the thrill of making your candle just makes you unable to wait to try and test it out. However, patience is a virtue!
Waiting for the wax to cure takes quite a long time. The candle wax may seem solid at first, but chances are it is still liquid on the inside. Different wax types take different curing time. Curing may even take weeks for some wax types!
Below is a chart on how long different types of wax take to solidify.
| | |
| --- | --- |
|  Wax Type | Typical Cure Time |
| Soy | 14 days |
| Paraffin | 3-5 days |
| Parasoy | 7-10 days |
| Palm | 5-7 days |
| Beeswax | 10 days |
4. Using the wrong materials.
The internet is a great source of information—but sometimes, this information could do you more harm than good. There are a lot of tutorials online that show you "hacks" of candle making using materials that are not really suitable for candle making.
When trying out candle making, it is important to use only materials from trusted sources and candle making supplies stores. At Stone Candles, we offer affordable candle making supplies which are of the highest quality. With it, you can rest assure that your candles will be safe to use and turn out well!
Stone Candles not just offers candle making supplies but also candle making classes. If there's a candle wax maker expert you could trust, it's most certainly Stone Candles! These candle making classes are available as In-person or Online also candle making classes classes. Enroll now!
Looking for candle making supplies? You may check Stone Candle's DIY Maker's Mart.
5. Starting with too many supplies
Sometimes less is more. Especially so when you are just starting out. There is always an exciting urge to buy lots of materials when getting into a new hobby or business, but in candle making, it is important to regulate and balance your materials out as having more candle making supplies might make it hard for you to manage everything.
It is also much better to stick with less ideas and candle types when you are just starting out. This would give you more chances to perfect your candles first before venturing and trying out other variants. It would also help you in improving your skills and mastering the basics of candle making.
Planning to go bigger with production? Don't worry, equipment like candle making machines is available for those who want to produce candles on a larger scale. If you're dreaming big with being a candle wax maker, then maybe candle making machines might be for you.
6. Burn Testing
Candles, no matter how good they smell or pretty they look, are still a hazard. This is especially so when it is not made right. Thus, it is important for candle wax makers to burn test their newly made candles. When burn testing candles, it is important to not just burn it for a short time but to burn it until the candle runs out. This is to ensure that your candle is safe to burn until the end of its life.
Remember, it is nice to earn money quick through candle-selling, but safety of your consumers come first! Don't half-heartedly do burn testing, as lives can be at stake! It is important to take every cautionary step when planning to make your own candle maker store.
Learn from the experts through the candle makers near me: Stone Candles, Inglewood, CA
Candle making is a fun hobby to do—but we must keep in mind that no matter how fun it is, there are a lot of things that need to be considered when making candles, especially when you plan to sell them. With practice and care, soon you'll be closer to achieving your expert candle maker dreams and who knows, you might even be the next biggest candle wax maker!